392M HF mobile antenna coil all band ham marine mars cap military 80 10 meters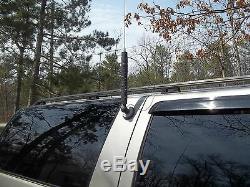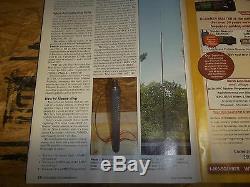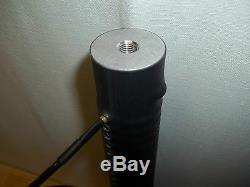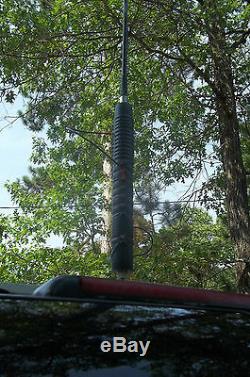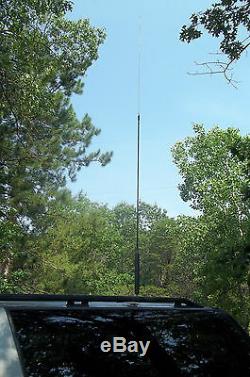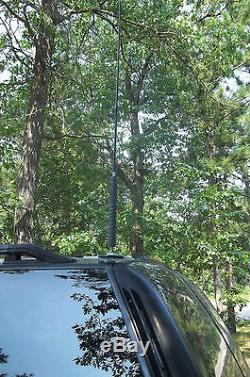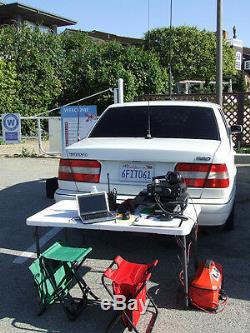 We have made some improvements on this already great coil! The machined end caps are now heated and pressed into the coil form. This leaves NO room for movement on the ends.
Also, we are soldering direct to the end cap bolt instead of using a terminal ring. This is of coarse 100% sealed and waterproof! Go on youtube and look up "TRX Communications 392M Antenna Mobile Test ". This is just the coil and tap wires. You will need to provide the whip of your choice and vehicle mount.
I sell the complete antenna in another listing. Is "tried and true" coil really is superb! The billet coil form caps are "bullet proof" and have a much cleaner appearance then the original.
This coil was tested by Gordon West himself! He also did a wright up in the December issue of Monitoring Times magazine on page 18.
Also check out a review of the antenna utilizing this coil at... W6aux's website where they had great success using it on there DART EMERGENCY RADIO COMMUNICATIONS EXERCISE! The design goal is very simple, we wanted an antenna coil that could be used mobile, portable, as a low profile base unit, for marine, mars, cap, and military. We wanted it to be 100% water proof and have no internal moving parts that may need replacing. Also, it needed to be durable and simple to use.
We wanted it with continuous coverage no gaps! Similar to a screwdriver type antenna and be able to mount it either as a base loaded antenna for lower profile mobile use or center loaded for greater efficiency. We did not want a "compromise" "no tune" antenna!
This system is designed to be resonant on the band you are using. Any time you are using an antenna with a transformer to keep the SWR low over a wide frequency range you are losing efficiency! This coil is built for good gain, and a nice clean appearance. Now, you will see other lower profile antennas that use the "wire and tap" method, but ours has 392 possible combinations to choose from giving you TOTAL coverage from 80m through 10m, that's continuous from 3.5-30 Mhz. This may seem like a lot!
And it is, but it is very simple to use when you know how it works. There are 14 "fine tune" taps, 7 "coarse tune" taps, and one larger coarse tap to bring your total coverage down to 80 meters.
I have run just over 600 watts SSB into this antenna at medium length QSO's without issue. Works perfect with a 102 CB type whip or 10 meter ham stick type antenna.
HERE ARE SOME EMAILS FROM OUT CUSTOMERS! Just wanted to say hello, and to let you know your antenna coil is performing beautifully on my setup and is now proudly displayed on QRZ dot com. Thanks again for such a quality and well performing product! I have it installed on my Chevy Trailblazer using a Comet RS-480.
"Lip" mount on the top of the rear driver side door. I bought a 72 whip from MFJ. I found the antenna very easy to get matched and working on 40-10 meters, which were the only bands that I was really interested in. I realize that the Comet is not an ideal mount but it is what I was using with Hamsticks. I have worked in to Europe on 20 and 17 meters from here is Wisconsin and gotten 59 signals reports.
I have also worked from coast to coast here in the USA on 20 and 17 meters. I also worked Europe on 40 meters. I will be looking forward to your web site and as I operate mobile I will try to point other hams to your web site. Thanks for a good product. Before I bought your antenna I bought a similar multi-tap antenna that MFJ just introduced.
I found that their advertising was very misleading the antenna was several feet shorter than advertised and every time you changed bands not only did you have to change the taps but you also had to readjust the whip. I have set this antenna up for 6 meters and that is all I will be using it for. If there was any thing that I would have liked to have seen with your antenna was the ability to tune it for 6 meters.
I have built thousands of antennas over the years with great success, but I have been limited as to what I can do on my own. Now I work very closely with a large composite company here on the Wurtsmith Air Force Base in Northern Michigan to accomplish things I never could before. All coil connections are wrapped then soldered for strength. Tap connections are solid brass. Uses standard mobile mounts with 3/8 x 24 thread.
Coil is 12.5" x 1.5". I copied and pasted this from my complete 392m antenna listing, but it applies here as well...... I would like to talk to you about your options when it comes to HF mobile antennas, I know there are many many different antennas available on the market for HF mobile operation. I receive several emails a day with questions about my antenna and comparing it to other antennas. First of all, let me say, almost all the antennas that you find for HF operation have their place, you will need to decide what is most important to you.
You will need to think about the price of the antenna itself, along with the cost of installation. Then, you will want to consider how easy the antenna is to use, will you need a tuner? How do I change bands? Then, just as important, how durable is it?
What kind of Maintenance will be required? And how much power will it handle? Prices vary so dramatically for HF mobile antenna systems! Then there are all the antenna systems in between! These antennas are easy to set up and they do work, but there is a cost, efficiency!
Most of these antennas are less than 70 in Long, and have narrow coils at the base with tap points for each ham band. The fact that they have short whips and inefficient narrow coils, actually makes it easier to get them tuned up.
The reason for this is, the resistance is high enough in the system to make it unnecessary to match the impedance at the feed point. A more efficient antenna will need capacitance or inductance added at the feed point the lower in frequency you go. You will see on my Suburban in my YouTube video, the small coil that I built for the base of the antenna, this works very well for inductance matching, and after its setup it will need no further adjustments.
My antenna is much more efficient on the lower bands then the shorter all band antennas. Another point to make about the smaller antennas with the tapped coils is, they are only designed for a few bands, then to adjust for each band you must raise and lower the whip to tune it for each band. My antenna is designed to be used on any frequency from 3 megahertz to 30 megahertz simply by adjusting the tap points on the coil. After you initialize the antenna, there is no need to adjust the whip for each band. My antenna has a set of course tuning Taps, and a set of fine-tuning taps. Once you learn how to use the antenna it is very simple! Then there are much more expensive antennas than mine, most of them are the screwdriver style antennas. I have used them in many different situations with great results! However, there are a few drawbacks to this antenna. The number one drawback is its price!
Some of the smaller less efficient ones will not need any inductance matching at the base that I have spoken of, but the largest most efficient ones will require some type of impedance matching. The other drawback to these antennas is a big one!
There are many things to wear out and go wrong with the motorized antennas. Plan on replacing the finger stock, or spring system making contact to the coil. Also, there is an electric motor that can and will need replacing. They need to be taken apart and cleaned and lubricated quite often if you use them all the time. My antenna does not require this regular maintenance, and the coil itself is protected 100% from the weather!
I have a lot of people emailing me asking if this antenna requires a tuner, the short answer is no, now here comes the long answer. This antenna is designed to be a resonant antenna, this means the antenna itself is tuned to the frequency that you are using. Unlike the antennas on the market that say they require no tuning but need an antenna tuner to be used along with them. Those other antennas are basically a transformer at the base of a single whip antenna. The Transformer makes it easy for the antenna tuner to do its job, but, the antenna is not resonant!
A resonant antenna such as mine, will require you to change the tap points for the band in which you want to operate, this is a little bit more hassle than the no tune antennas, but is much much more efficient! Now, here is the interesting part! Remember I told you that my antenna requires impedance matching at the base because it is a resonant and efficient antenna, You can use an antenna tuner to simplify this process! You are basically getting the best of both worlds!
You have an efficient antenna that is resonant on the frequency you are using, but there is no need to add capacitance or inductance at the base of the antenna because you have the antenna tuner to take care of that part. The LDG tuners on the market are fantastic!
And they do it very quickly. But if you are not familiar with HF mobile, or. You just want to "simplify" things, a small automatic antenna tuner is the way to go! Just remember, you are only using the tuner to match the impedance, you are not trying to make a "non resonant" antenna work for you such as the "no tune" antenna's. The item "392M HF mobile antenna coil all band ham marine mars cap military 80 10 meters" is in sale since Saturday, May 18, 2019.
This item is in the category "Consumer Electronics\Radio Communication\Antennas\Ham, Amateur Radio Antennas". The seller is "trxcommunications" and is located in Oscoda, Michigan.
This item can be shipped worldwide.
Frequency Band(s): HF
Country of Manufacture: United States
Model: 392M
To Fit: 3/8x24,standard,mobile mount,
Compatible Brand: outbacker,screwdriver,buddipole,type systems
Directivity: Omni-Directional
MPN: Does Not Apply
Brand: trx

---