392M HF mobile antenna coil all band ham marine mars cap military 80 10 meters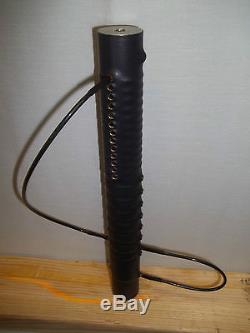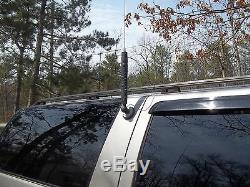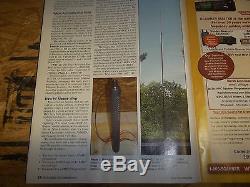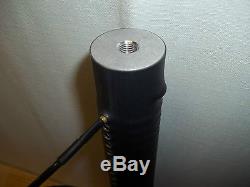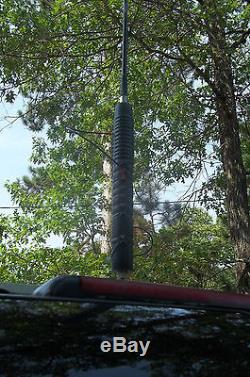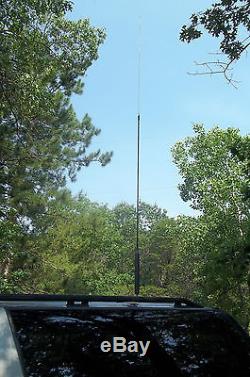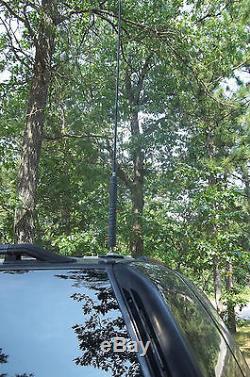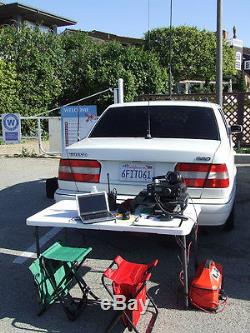 We have made some improvements on this already great coil! The machined end caps are now heated and pressed into the coil form. This leaves NO room for movement on the ends.
Also, we are soldering direct to the end cap bolt instead of using a terminal ring. This is of coarse 100% sealed and waterproof! Go on youtube and look up "TRX Communications 392M Antenna Mobile Test ". This is just the coil and tap wires. You will need to provide the whip of your choice and vehicle mount.
I sell the complete antenna in another listing. Is "tried and true" coil really is superb! The billet coil form caps are "bullet proof" and have a much cleaner appearance then the original. This coil was tested by Gordon West himself! He also did a wright up in the December issue of Monitoring Times magazine on page 18. Also check out a review of the antenna utilizing this coil at... W6aux's website where they had great success using it on there DART EMERGENCY RADIO COMMUNICATIONS EXERCISE! The design goal is very simple, we wanted an antenna coil that could be used mobile, portable, as a low profile base unit, for marine, mars, cap, and military. We wanted it to be 100% water proof and have no internal moving parts that may need replacing. Also, it needed to be durable and simple to use. We wanted it with continuous coverage no gaps! Similar to a screwdriver type antenna and be able to mount it either as a base loaded antenna for lower profile mobile use or center loaded for greater efficiency. We did not want a "compromise" "no tune" antenna! This system is designed to be resonant on the band you are using. Any time you are using an antenna with a transformer to keep the SWR low over a wide frequency range you are losing efficiency!
This coil is built for good gain, and a nice clean appearance. Now, you will see other lower profile antennas that use the "wire and tap" method, but ours has 392 possible combinations to choose from giving you TOTAL coverage from 80m through 10m, that's continuous from 3.5-30 Mhz. This may seem like a lot! And it is, but it is very simple to use when you know how it works. There are 14 "fine tune" taps, 7 "coarse tune" taps, and one larger coarse tap to bring your total coverage down to 80 meters.
I have run just over 600 watts SSB into this antenna at medium length QSO's without issue. Works perfect with a 102 CB type whip or 10 meter ham stick type antenna. HERE ARE SOME EMAILS FROM OUT CUSTOMERS! Just wanted to say hello, and to let you know your antenna coil is performing beautifully on my setup and is now proudly displayed on QRZ dot com.
Thanks again for such a quality and well performing product! I have it installed on my Chevy Trailblazer using a Comet RS-480.
"Lip" mount on the top of the rear driver side door. I bought a 72 whip from MFJ. I found the antenna very easy to get matched and working on 40-10 meters, which were the only bands that I was really interested in. I realize that the Comet is not an ideal mount but it is what I was using with Hamsticks.
I have worked in to Europe on 20 and 17 meters from here is Wisconsin and gotten 59 signals reports. I have also worked from coast to coast here in the USA on 20 and 17 meters. I also worked Europe on 40 meters.
I will be looking forward to your web site and as I operate mobile I will try to point other hams to your web site. Thanks for a good product. Before I bought your antenna I bought a similar multi-tap antenna that MFJ just introduced. I found that their advertising was very misleading the antenna was several feet shorter than advertised and every time you changed bands not only did you have to change the taps but you also had to readjust the whip.
I have set this antenna up for 6 meters and that is all I will be using it for. If there was any thing that I would have liked to have seen with your antenna was the ability to tune it for 6 meters. I have built thousands of antennas over the years with great success, but I have been limited as to what I can do on my own. Now I work very closely with a large composite company here on the Wurtsmith Air Force Base in Northern Michigan to accomplish things I never could before.
All coil connections are wrapped then soldered for strength. Tap connections are solid brass.
Uses standard mobile mounts with 3/8 x 24 thread. Coil is 12.5" x 1.5".
The item "392M HF mobile antenna coil all band ham marine mars cap military 80 10 meters" is in sale since Tuesday, July 24, 2018. This item is in the category "Consumer Electronics\Radio Communication\Antennas\Ham, Amateur Radio Antennas".
The seller is "trxcommunications" and is located in Oscoda, Michigan. This item can be shipped worldwide.
To Fit: 3/8x24,standard,mobile mount,
Compatible Brand: outbacker,screwdriver,buddipole,type systems
Brand: trx
Model: 392M
MPN: Does Not Apply
Frequency Band(s): HF
Directivity: Omni-Directional
Country of Manufacture: United States

---