End Fed Random Wire Hf Dipole 91 Antenna. Stainless/ 80-6 Meters 150w Pep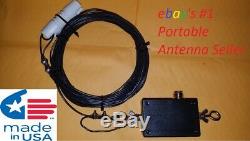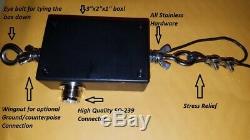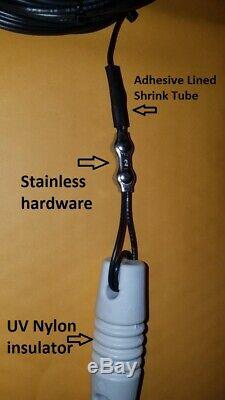 PLEASE LOOK AT ALL PICTURES! WIRE LENGTH IS APPROXIMATELY 50 FEET!
END FED "RANDOM WIRE" FOR 80-10 METERS WITH BUILT IN RADIO TUNER BUT MANY BUILT IN RADIO TUNERS WILL TUNE THIS ANTENNA PERFECTLY ON 80-6 METERS!! After many requests, here is a complete unit offered for my customers. ALL STAINLESS ANTENNA HARDWARE MODEL so there will never be an issue with components starting to rust. Tiny and light weight but ready and capable to put in work! This unit is encased in a 1"x 2"x 3 ABS box!
And comes with a VERY HIGH QUALITY SO-239 connector. Does your HOA try to deny you the ability to have antennas up? Are you looking for a quick and convenient way to run a portable (end fed) dipole without needing 2 or 3 supports or several antennas for portable or permanent operation? The UJM-150 may be just for you. WHY MY MATCHBOX IS DIFFERENT. I have a unique toroid, wire and wind combination that I customize for my units. After many YEARS and many dollars spent in R&D I finally found the best working comination of toroid and wire size, and wind configuration and type. Simply put, my unit is NOT a "google how to" and throw together unit. I take pride in my work and products and make them the best I can.
This unit will allow you to run an end fed dipole (1 single wire) on most bands with just a single wire and radio+tuner. This unit is made to tune well with even picky built in radio tuners. Every factory radio we could find with a built in tuner could tune this antenna perfectly on 80-10 meters and most can tune it perfectly on 6 meters as well.
I advertise this as an antenna for 80-10 but I consider that a minimum with many built in tuners capable of a great match on 6 meters as well. (your setup will determine this)! My matchbox is made with a larger toroid than most here and solid copper wire allowing more power to. You can run from QRP to 150Watts PEP easily and 100W CW and 80W other digi modes. This is accomplished with a trifilar wound unun (not balun) transformer at a 9:1 ratio. How this works is really quite simple. Running a standard dipole with 2 elements has about a 72 ohm feed point at the center but end feeding a dipole will result in impedance levels from 1800 to 5000 ohms! That's way too much for a tuner to handle right?
Well that's what this matchbox takes care of. HOW TO DEPLOY First off you will need a tuner! These are made to be used with an antenna tuner. The bands you can tune up and work depends on your tuner. Use at least 16 feet of coax from the box to the tuner!
The box uses the shield of your coax so the 16 feet or more is good. Do not be afraid of longer coax folks, this is HF and coax loss is very low. Longer coax is recommended because these antennas use the shield of the coax as a radial so to speak. Running 50, 60, 75 or 100 feet of good coax is NOT a bad thing. I highly recommend deploying this antenna in a simple "sloper" style configuration. These boxes like to be close to ground level. It is recommended to secure the box down (via eye-bolt lug) within 5 feet of ground level and run the antenna element in a slope upwards and out from the box with the far end height recommended to be from 20-30 feet (6.6 to 10+ meters) high at the far end. You can experiment and deploy in may different fashions, zig-zag, inverted "L", vertical etc but sloper is recommended. While these are VERY omni directional, you will see that in a sloper you will get slightly more gain in the direction of the antenna element. For instance, if the antenna element is running east to west you can expect a bit more gain in the east and west.
You can Youtube Nelson Antennas or Nelson End Fed and find customer reviews. The item "END FED RANDOM WIRE HF DIPOLE 91 ANTENNA. STAINLESS/ 80-6 METERS 150W PEP" is in sale since Wednesday, September 25, 2019. This item is in the category "Consumer Electronics\Radio Communication\Antennas\Ham, Amateur Radio Antennas".
The seller is "nelson_antennas" and is located in Marcellus, Michigan. This item can be shipped worldwide.
Model: UJM-150-50
Country/Region of Manufacture: United States
Compatible Brand: Universal
Band: AM
To Fit: Any radio and or tuner for HF coms
Frequency Band(s): HF
Type: Antenna
Directivity: Depends on user deployment
MPN: Does Not Apply
Brand: Nelson

---