KVE520 Vector Impedance Analyzer Antenna Ham Radio DIY with 4pcs Adapters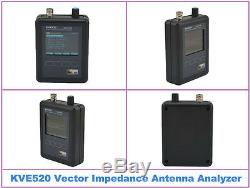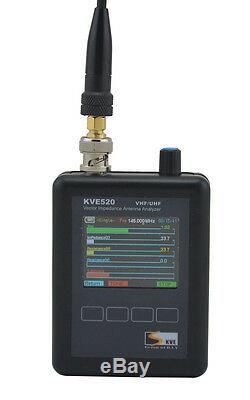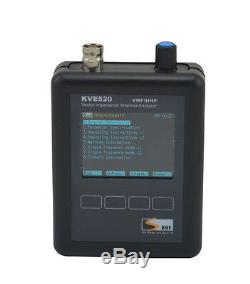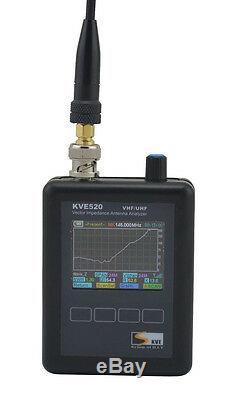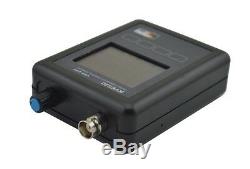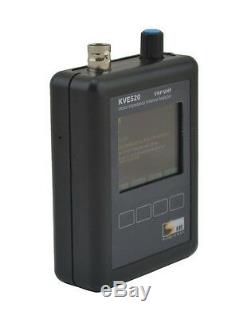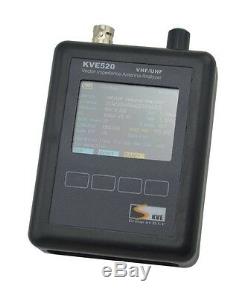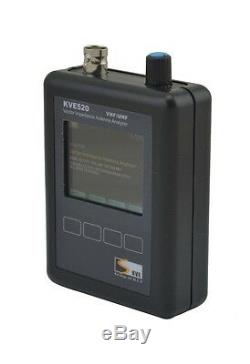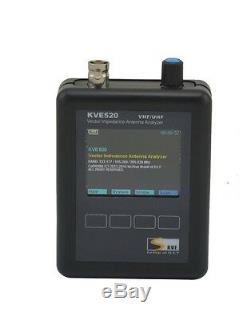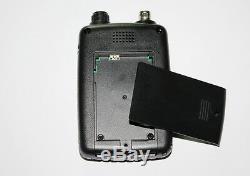 KVE520A Vector Impedance Antenna Analyzer(Frequency Range 133-177/195-280/395-520MHz) with 4pcs Adapters. Usually Will Reach USA, UK, Australia within 15. If more than 25 Days! Features and Functions: The KVE520 breaks the size barrier for RF-analyzers by delivering user-friendly convenience, top-notch accuracy, and a vivid TFT multi-color display in an ultra-compact package. Although small in size, the KVE520 is loaded with a great selection of Single- Frequency and Swept-Frequency VNA functions.
Use the Single-Frequency mode to view Standing Wave Ratio (SWR), Resistance (R), Reactance (X), and Local Interference levels (S) simultaneously on a high-resolution analog bar-graph display. High-accuracy numerical values for SWR, R, X, and Impedance Magnitude (Z) appear on the same display. This mode also allows you to use your analyzer as a precision signal generator.
Use the Scan-Frequency Mode to graphically plot SWR, R, X, and Z. All four plots are captured as a sequence of sharply defined color graphs.
Simply toggle through each screen for a complete visual analysis. There's also a tunable marker on each screen you can use to call up precise numerical values for SWR, R, X, and Z at any point along the plot. The KVE520has internal memory, so there's no need to worry about lost data -- if you turn your unit off, the last measurement will still be there when you turn it on again. The KVE520 is continuously tunable from 133-177 195-280 395-520 MHz with 100-Hz resolution and a wide range of tuning steps and scan widths for shaping your plots. The advanced DDS stimulus generator delivers rock-solid stability, smooth skip-free tuning, and a powerful +5 dBm test signal that overrides most strong local interference.
There's also a built-in Field-Strength Indicator to warn when high interference levels are present. Best of all, you can forget about swapping out dead batteries, working around NiCd cell memory, or hunting for lost wall chargers because the KVE520's long-running lithium-polymer power source is built right in. Simply connect to any available USB port on your computer or USB wall charger to recharge. A built-in smart-charger with LED status monitoring let's you know when the analyzer is ready to go. Once you're up and running, you'll quickly discover the KVE520 has many user-friendly features including soft-menu labeling for the command keys and a built-in 8-page Help Menu.
Don't forget to personalize the KVE Antenna Analyzer Boot Screen by entering your call letters or name. 1 Display and protective glass: Sharp Transflective TFT, 1600 million color, QVGA. Mitsubishi hardened scratch resistant acrylic protective lenses. 2 VSWR 1.00 - 99.99. 3 Frequency range :133-177 / 195-280 / 395-520MHz.
5 Frequency Step: Min 100Hz / step. 6 Output Level: 5dbm (based on 14MHz Test). 7 Scan width: 300K/600K/1.2M/2.4M/6M/12M/24M/48M. 9 impedance resistor reactance range :0.1-999.9 ohms. 10 Power Supply: 3.7V 1800mAH lithium polymer (standard built-in).
11 Charging power supply: Micro USB standard connector (must ensure that the output voltage is DC 5.0-5.5V, and the current output capacity> 500mA). 12 Charge indicator: Hidden (when not charging) there are three instructions state: 1, charging (red) 2, charging is completed (green) 3, charging fault (flashing). KVE520 Vector Impedance Antenna analyzer.
Is based on the KVE60C platform development with the KVE60C operation is basically is the same, Most of the instructions is from KVE60C opearatinq system. Is based on a 50-ohm measuring shortwave antenna system experimental apparatus. Can accurately measure the reactance X, standing wave SWR, resistance R, and the complex impedance Z parameters. To check and adjust the antenna resonance short, bandwidth matching.
Requires users to have a certain radio basic theoretical knowledge and an understanding of the performance of the device; proper operation and in order to better use it. Second, the developer of the device is a radio amateur, commercial design and try to work with different pursuit:Accuracy! Has a higher resolution than the commodity machines and precision, test speed, a more friendly user interface, more focus on user experience, portable small size, high quality power management to get more use of time and so on. Shar Transflective TFT, 1600 million color, QVGA. Mitsubish hardened scratch resistant acrylic protective lenses. × KEV520A Vector Impedance Antenna Analyzer.
The item "KVE520 Vector Impedance Analyzer Antenna Ham Radio DIY with 4pcs Adapters" is in sale since Saturday, July 25, 2015. This item is in the category "Consumer Electronics\Radio Communication\Ham, Amateur Radio\Other Ham Radio Equipment". The seller is "szmaxstart" and is located in shenzhen. This item can be shipped worldwide.
Brand: Unbranded/Generic
MPN: Does not apply
Country/Region of Manufacture: China
UPC: Does not apply

---