Portable QRP all-band Miracle antenna with detachable whip/ HF UHF VHF Ham radio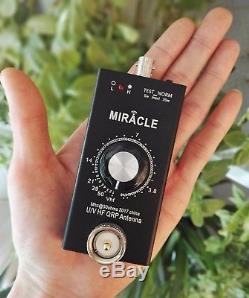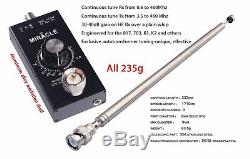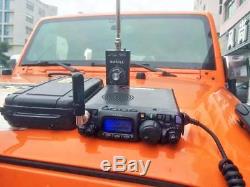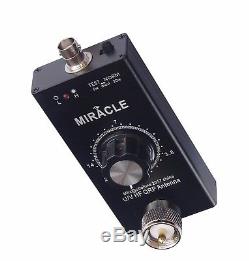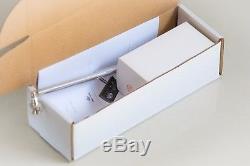 Portable QRP all-band Miracle antenna with detachable whip/ HF UHF VHF Ham radio. High-performance portable all-band antenna with detachable whip.
Continuous tune Rx from 0.6 to 460Mhz. Continuous tune Tx from 3.5-460Mhz.
Engineered for the 817,703, K1, K2 and others. 30-40 dB gain on HF Rx over a plain whip. The Miracle Ducker TL combines all the original per-formance of famous Miracle Whip antenna with all the versatility of the Miracle Ducker PL-the best of both worlds! Use it with the whip, with a rubber duck, with another short vertical, a random wire, coax-feed a short dipole there's almost no limit to what you an do. For transmitting, it's the word's most versatile small antenna. For reception of ham bands, shortwave, scanning and regular broadcast it can give up to 40 dB gain over a plain over a plain whip or rubber duck.
Operating the Ducker TL couldn't be simpler. Plug it directly into the antenna socket on your radio. If this is not convenient, you can attach the unit with a length of coax and place it remote from the radio. Extend the whip to full length on HF-for VHF/UHF, set it to equal 1/4 or 3/4 wave at your operating frequency. For HF, you can tune the Ducker TL on receive listen for a peak in the background noise or the signal you'er listening to.
You should now be well tuned for transmission. You can check for minimum SWR on your radio's meter while transmitting. For VHF/UHF, set the dial to the VHF dot and set the whip length as above. The Ducker TL tunes and loads fine without any external counterpoise for maximum operating convenience.
You may add a counterpoise to improve your results experiment with a 1/4 wave for the band you'er using , and take it from there. Use an alligator clip and extra wire when convenient to extend the length of the whip and improve performance even more.
It is best to tune the Ducker TL for maximum noise on an empty channel in the band you are listening to, as many stations can be so strong that you don't hear the best tuning position as you will on an empty channel. Feel free to experiment with the Ducker TL using rubber ducks of various sizes, other longer whips, random wires up to about 30 feet, short dipoles-heck, we even used it to tune a filing cabinet! As long as you're reasonably careful, there's little you can do to hurt it.
On VHF/UHF, the Ducker TL connects the radio directly to the antenna, bypassing the tuner. You then set the whip to approximately 1/4 or 3/4 wave for the band you are on. This applies to frequencies of 50 Mhz and above. Note that the whip length -57'' - is exactly 3/4 wavelength on 2 meters, so for this band, Just extend the whip to it's full length and you're set. Be gentle when attaching or removing the whip or other BNC connector.
Avoid rotating the female connector attached to the Du. The item "Portable QRP all-band Miracle antenna with detachable whip/ HF UHF VHF Ham radio" is in sale since Wednesday, July 18, 2018.
This item is in the category "Business & Industrial\Electrical Equipment & Supplies\Electronic Components & Semiconductors\Semiconductors & Actives\Integrated Circuits (ICs)\Other Integrated Circuits". The seller is "201388ming" and is located in . This item can be shipped worldwide.
MPN: Does Not Apply
Brand: Unbranded/Generic

---