PREMIUM DX Commander Amateur Radio ALL BAND Vertical HF Antenna Portable Use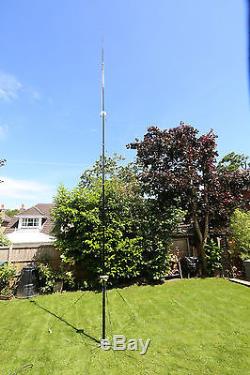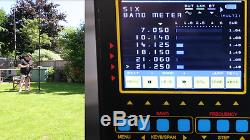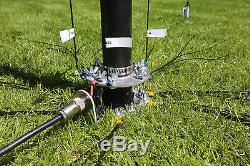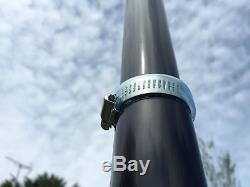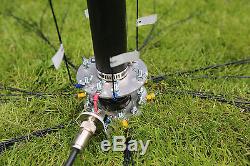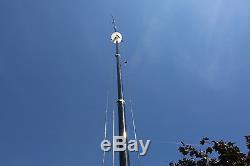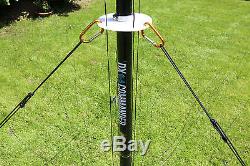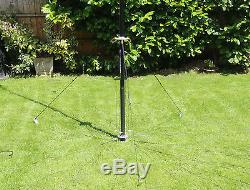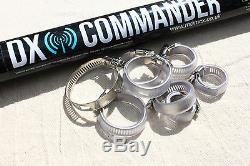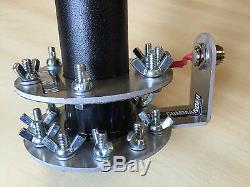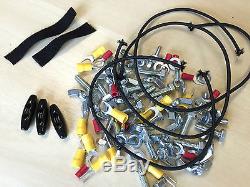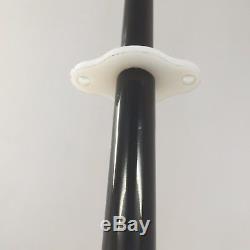 Hop over there and search YouTube for "DX Commander". I make 2-3 videos per week. This listing is for the Classic Premium version of the 10m DX Commander vertical. The Premium version includes everything you need.
DX Commander pole of course! 8 x Stainless hose clamps. 80 cms 8mm id tubing. 20 cms glue lined shrink-wrap (for creating the little end loops for fast take-down). 100m insulated wire (3 steel and 4 copper stranded in 2 x 50m runs), just about enough for your elements and 20 x 3.5m radials (you measure and cut these yourself). Improved ground plate with SO239 and flying lead and connector. Driven Plate (improved and made bigger). 8mm nylon guy plate NEW! This is upgraded from the pictures which was 6mm.
This allows engineered solution to fit the 30m element to and slide 40m element through - see pic. NEW Stainless Nuts, bolts, washers. Heavy duty fork connectors for 6 elements and 9 radial connectors.
1m 3mm black shock cord (shortly to be upgraded to 4mm). 15 black plastic carabiners to connect elements via shock-cord to spreaders. 10m heavy duty 550 Paracord for connecting shock cord to upper spreaders and completing guy lines. My adverts can hardly compete with the developments. Please check out my YouTube channel. Search "DX Commander" there and you'll track me down. The DX Commander vertical system is based on the same technique as a fan dipole.
Effectively a number of elements present themselves to your load and self-select to achieve efficient quarter-wave performance on all bands, according to which quarter-wave elements are installed. I run one of these myself and run 40m, 30m, 20m, 17m, 12m and 10m elements with SWR under 1.5:1 on all bands. The 15m band is catered for by means of resonating the 40m antenna and uses what we have called a boomerang foldback to achieve a pseudo 5/8ths for 15m band.
No tuner is required and the far field patterns are excellent for DX. It will also tune on 6m and although the far field pattern is not perfection, there is gain and you will achieve Sporadic E contacts. My own results have been very encouraging and I have really enjoyed deploying this antenna for /P and holidays.
I even run one in my garden without any ATU via an amplifier. In fact, I achieved the highest recorded UK score ever for a low power, 12 hour, assisted IOTA contest station using this antenna. Radials: There is much baloney surrounding the topic of radials. The bottom line is that the difference between around 15 radials and 120 radials is negligible, so much so that I wrote a paper.
I also made a YouTube film about this. Find me over there as "dx commander". Personally, Ive gone down a half-way house route with 36 x 4.5m long radials.
These are crimped and soldered to a fork connector in bunches of 6 which means I effectively only have to make 6 connections when I set up. You will need to invest in a relaxed build day to make your first build and solder your connectors on and measure out your element lengths to make sure the antenna is repeatable so that in future, you can erect within 20 minutes and pack away in a similar time.
Tip: Tape the ends of the radials together when you pack away so they unravel fast in a single line without tangles. And you really can deploy this fast: On my third try, I got this down to 25 minutes. I'm convinced someone will get this to 20 mins, possibly less. I made a time-lapse film and it's on YouTube.
Just google "Fast Deploy All-Band Portable Ham Radio Vertical Antenna" and you'll find it. The only thing youll need to supply yourself are some guy stakes. Heavy Duty camping stakes are fine. Theres quite a following of DX Commander users out there, so join in and enjoy having a truly efficient multiband antenna.
Of course a manufacturing error or fault is a different matter. This is a hobby business with low margins, but I thoroughly enjoy making this gear and testing it out so that you get a great experience and I get exactly the gear I want in the process. If you like DX Commander products, track down the DX Commander pole on eHam and leave a review there too. Thanks for all your support chaps.
Kind regards, 73 Callum M0MCX. It'll be in spec and if you order Monday, you should get it by Friday. Please don't do that, it means everyone will end up paying more.
Search YouTube for "DX Commander". Google "m0mcx dx commander user guides". The item "PREMIUM DX Commander Amateur Radio ALL BAND Vertical HF Antenna Portable Use" is in sale since Tuesday, June 5, 2018. This item is in the category "Mobile Phones & Communication\Radio Communication Equipment\Antennas\Ham/Amateur Radio Antennas". The seller is "m0mcx" and is located in Solihull. This item can be shipped to United Kingdom, Austria, Belgium, Bulgaria, Croatia, Cyprus, Czech republic, Denmark, Estonia, Finland, France, Germany, Greece, Hungary, Ireland, Italy, Latvia, Lithuania, Luxembourg, Malta, Netherlands, Poland, Portugal, Romania, Slovakia, Slovenia, Spain, Sweden, Australia, Canada, Brazil, Japan, China, Israel, Hong Kong, Norway, Indonesia, South Korea, Switzerland, Chile.
Model: Premium
Country/Region of Manufacture: United Kingdom
Type: Omni-Directional
Manufacturer warranty: Lifetime
MPN: DX Commander Premium
Frequency Band(s): HF
Brand: DX Commander

---