SignaLoop High Performance EMCOMM/Ham/SWL 3-15mhz 80-20m Magnetic Loop Antenna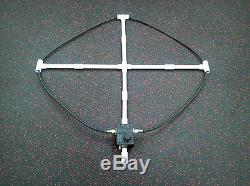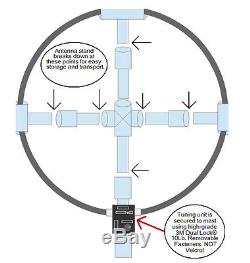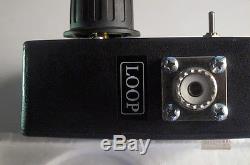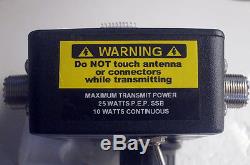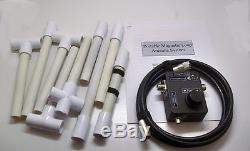 Please read the FAQ & feedback sections further down this page, and feel free to contact any time if you have any questions. The SignaLoop (tm) model HF-315 Magnetic Loop Antenna is a rugged, highly portable antenna system which has been designed for rapid deployment, ease of use, good performance, and low cost. This is a very compact antenna which can easily fit into a backpack or bag and requires no counterpoise wires, ground radials or external antenna tuner. These characteristics make this antenna ideal for most any application where a small, yet high performance HF antenna is needed - i.
Apartments, hotels/motels, temporary demonstrations, camping/hiking, and any other space constricted area. Transmit & receive frequency coverage is continuous from 3 to 15 Mhz, allowing coverage of the 80 thru 20m ham bands along with MARS/CAP frequencies and several of the most popular SWL bands. Magnetic loop antennas such as this are noted for high efficiency compared to portability, along with low noise, and an ability to reduce or often eliminate many types of receive interference due to high directivity and deep, sharp nulls in the perpendicular plane. This antenna is perfect for use with any receiver and/or low-powered transceiver such as the Yaesu FT-817, Elecraft KX3, KX2, Icom IC-703, and other portable radios such as HF military manpack radios etc.
These antennas are made from quality parts and materials - i. All metal rugged variable capacitor. High quality low-loss internal wiring.
Loop cables are made with high quality Amphenol® PL-259 connectors and good quality coaxial cable. The included stand is made from thick-wall schedule 40 PVC pipe. Can be easily stored inside a small case, bag, backpack, etc. Without included PVC stand, 3lbs. A great HF antenna solution for Hiking, SOTA, EMCOMM, etc.
Built-in standard 1/4x20 tripod mount for use with photo tripods if needed. Quick-connect BNC connection to radio.
No separate coupling loop needed. Tuning and coupling components are housed within a single enclosure.
Very quick and easy to tune as needed. Simply tune for maximum noise on receive and then apply transmit power & fine tune (if needed) for lowest SWR. Transmit/Receive frequency coverage is continuous from 3 to 15 mhz, including the 80/75m, 60m, 40m, 30m, and 20m Amateur Radio bands. Design provides good performance at all covered frequencies.
Rated transmit power of 25 watts P. SSB/CW, 10 watts continuous carrier. Does not require any type of counterpoise, ground radials, nor ground connection for operation. Does not require an antenna tuner.
Inherent low-noise, high signal ratio. Hi-Q design helps to reject off-channel interference.
Directional & magnetic signal response properties of the antenna allow for high rejection of local noise sources along with maximum reception of the desired signal. Each antenna comes complete with Coaxial Loop Element, Tuning Unit, PVC Stand, and printed user manual. Here is an overview video.
Model HF-315 Magnetic Loop Antenna overview & tuning. Video will open in a new window. Some recent feedback on the SignaLoop HF-315 portable loop antenna. I can finally enjoy my SWL hobby again even in my RFI filled location. Great antenna amazingly effective and works inside as well. Nice unit tried it set up in house to see how it worked. Very Very Cool Mag Loop =. Tuning it is a chore for tx. All hams should have one!
This is a really great working antenna. Thank you for a fantastic antenna!!!!! Built better than I hoped. Great loop antenna, perfect for portable qrp. Great product, works really well.
Im very pleased & would recommend. Antenna works well on all bands even inside the house! At 64 years old I've become a bit of a cynic about product claims. But you have UNDERestimated the usefulness of your product.
And thanks so very much for including the BCN to 3.5mm cable. That allowed me to get going right away.
As I had mentioned, signal strength was not my problem but rather it was horrible RFI/QRM in my condo building. I was pretty much ready to give up on my 50 year SWL hobby. The HF-315 nulls the noise far more than I could have hoped for. I was able to use the tuning knob to find the "sweet spot" after just a few seconds trying.
I assembled the loop this evening and have been doing some quick basic shortwave listening with a cheap Grundig YB400. Huge improvement verses the whip antenna. Ill try QRP this weekend with my HF rig. I received the antenna over the weekend and finally got to try it this morning.
I was in the house, did not have a tripod, so was holding the loop up in the air in one hand, and the mic in the other. Made several contacts on 40m with 5-5 signal reports at 15 watts. Thanks for having such a great product at such a great price! Performance excited me enough to order an ft-891! PSK reported me getting out, conditions on hf were blackout quality but I was heard on jt65 20m all over NA.
You cant go wrong with this loop, highly recommended. I plan on using the loop on the beach after kayaking to my favorite coastal spots. The HF-315 seems to produce much better nulling/directionality then the other 2 loops which I had bought before.
Wish Id discovered your loop before the other two, I probably never wouldve bought them. Hi, Just wanted to let you know that the package with antenna arrived yesterday safely, thank you for great packaging job!
Antenna works miracles, I have never had such a quiet and efficient indoor antenna. Thank you very much again. I have made some contacts on 20 meters.
Seems to work well on 80, 40 and 20 meters. Farthest contact was about 600 miles. Tuning is touchy but SWR is good. Thanks for a reasonably priced mag loop that has good quality and operates as it should.
Everything arrived on schedule and went together perfectly. Tested at home on 817ND (5 Watts) and set up at Field Day. We are members of ARES and LAECT (Los Angeles Emergency Communications Team) and our Field Day is devoted to Emergency Communications. We have CERT/Hospital and Public Service Groups in for training, hold a License Exam and demonstrate different Go-Bags, Hospital Comms Support, Comms Vehicles etc.
Without exaggeration I can say your portable loop was the hit of the show. We did digital Furthest PSK31 QSO was Florida on 20M, NBEMS on MT63-1L on 40M mostly within about 200 miles. Also did some WINMORE on 20/40M, made contact all the way to Austin TX.
Did SSB on 14.300 Maritime Net up to British Vancouver and down to Cancun, Mexico. FYI, for tuning we use noise than fine tune to a YOUKITS Antenna Analyzer which is connected to a two-position coax switch. When we get where we need to be, just switch over to the rig. Thanks for getting us in the first Group for a Unit. There are several small magnetic loop antennas on the market now, but most are much more expensive than this one.
Yes there are several small loop antennas being made these days and they are all very good quality & useful products and worth every penny of their cost. Our SignaLoop HF-315 is no exception, and the reason that it is inexpensive compared to others in its class is simple - our overhead is low and we are passing that savings along to you. Also, we are most certainly not getting rich nor making a killing in any way at this. Instead, we are building a nice quality product while we help to support ourselves and contribute to the world, national, and local economies. So I ordered my SignaLoop antenna on xx/xx/xx and it hasn't arrived yet.
A: These antennas are labor intense and costly to build and so in order for us to be able to offer them at such a low price it is necessary to build as needed. In particular, the variable capacitors which are used in these antennas (quality metal, not the lesser poly plastic types which can be easily ruined) are quite expensive and therefore are generally ordered as needed with only a few kept on hand at any given time. I've seen lots of small magnetic loop antennas, and they all use a smaller loop for coupling to the radio. A: The SignaLoop HF-315 antenna does not use a separate smaller coupling loop in its feed system. During design & testing in 2015, a design goal of this antenna was to contain all coupling & tuning components within the tuning box.
Doing this offers a few convenience advantages such as allowing the antenna to be used without the antenna stand if needed so that a hiker or backpacker can deploy it easily and simply hang it from perhaps a couple of low tree branches or? Also, some exterior coupling loops can be fussy for tuning with regard to alignment and distance from the main radiating loop but not always - there are some really good loop antennas available which use rigid coupling loops and they work well. Will this antenna make my receiver hear everything, get me awesome transmit signal reports each and every time that I use it, and make coffee too?
But don't fret - the skill of making coffee is something to be proud of, and the loop antenna. Will give you a usable signal under most circumstances. The king thing with these antennas is in the performance-to-size ratio and their ability to operate efficiently without the need for ground wires, radials, or any other type of counterpoise.
Also, they are a highly directional antenna and are therefore able to help combat (and quite often eliminate entirely) many sources of radio interference on receive as well as to concentrate the transmit signal in a given direction, much like a good yagi beam antenna. Further, once tuned to a given frequency, the small loop antenna will tend to act as a passband filter due to its narrowband nature and will therefore help to reject strong out-of-band signals and even some in-band ones. But, as always, there is a tradeoff - this is not a broadband antenna and so must be retuned each time you change frequencies by any significant amount. If your interest is for receive only, there is an excellent broadband small loop antenna available from Larry, W6LVP. Okay fine and that all sounds great but how well does it.
A: Well, short answer is - quite well. These are from real people in the field who have used this antenna. I personally use one daily with a Yaesu FT-891 running 25w PEP on 75 & 40m to check into a couple of nets and I'm always heard unless band conditions are terrible.
I also use it for most of my SWL and HF utility monitoring activities because I can rotate it perfectly in order to kill some local interference here which my outside antennas (a longwire and a double bazooka) cannot hear through. So it makes a great addition to your radio toolbox for both portable. And certain types of home station operation. These antennas are labor intense and costly to build and so in order for us to be able to offer them at such low prices it is necessary to build as needed.
The item "SignaLoop High Performance EMCOMM/Ham/SWL 3-15mhz 80-20m Magnetic Loop Antenna" is in sale since Friday, September 28, 2018. This item is in the category "Consumer Electronics\Radio Communication\Antennas\Ham, Amateur Radio Antennas".
The seller is "antennas4less" and is located in Klamath Falls, Oregon. This item can be shipped to North, South, or Latin America, all countries in Europe, all countries in continental Asia, Australia.
Model: SignaLoop HF315 Ultra Portable Magnetic Loop
Modified Item: No
Country/Region of Manufacture: United States
Custom Bundle: No
Frequency Band(s): HF
Directivity: Bi-Directional
MPN: HF/Shortwave Magnetic Loop Antenna
Brand: Caras Mfg.
Non-Domestic Product: No

---