All Band multiband HF Vertical antenna Ham Radio Amateur US Patented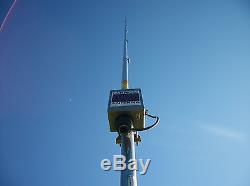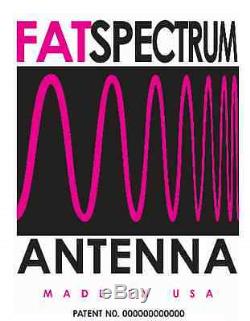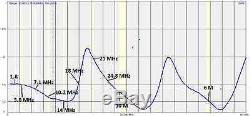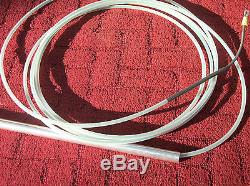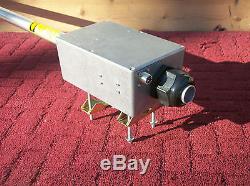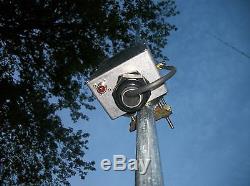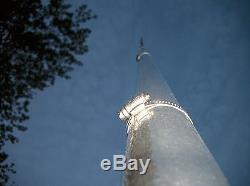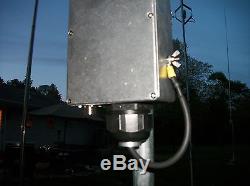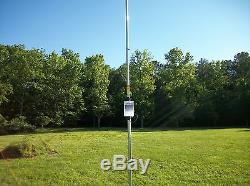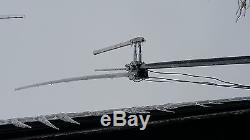 The last photo is from a customer that had a 2 inch ice storm and it survived without any damage! This is what he wrote: I have had this Antenna for only a short time, but I had to tell someone I was impressed. Which is why I gave it a 5 in this early review. Reception at my location [N16ak, hope I have that right, in OK, USA]is excellent. What I wanted to comment on is it's ruggedness.
So far it has survived unscathed a 65 mph sustained wind, 75 mph gust front and most notably a 2 in Ice storm that totally clobbered my trees. It is installed 22 feet up a pole with a 6m hamstick type and a 2m PVC type antenna. The ice completely pulled my 2m apart, the hamstick type was covered with ice and survived. I was concerned for my Fat Spectrum which seems so fragile looking up at it but even with an approx 20% arch it held firm, shed it's ice coat, and looks as new! More to come as my experience grows!
All band , wide band Vertical antenna by Fat Spectrum Antenna, LLC. All Band Low VSWR, Please see the SWR chart included in photos using 18 feet of RG213 and a RigExpert AA-170 Analyzer. 50 ohm great match antenna for your Solid state, SDR or Tube final Transceiver. Covers the entire frequency spectrum from below 160 meters through 6 meters with no tuning or adjusting the antenna. Great for DX and Local communications.
Easy set up about 10 minutes or so with a crescent wrench and a screwdriver. If you want to go portable just collapse it down and throw it in the back of your truck, it is 49 tall when collapsed. The initial set up is that you take it out of the box and extend the vertical elements, tighten the clamps, mount it on your support mast up to 2.00 inches in diameter, connect any length of your coaxial cable of RG8 , RG213, LMR400, RG8X or equivalent and you are done! No Tuning or adjustments needed for this antenna! Covers 160m, 80m, 75m, 60m, 40m, 30m, 20m, 17m, 15m, 12m, 11m, 10m, 6m, And everything in between!
No complicated add ons, No tuners, No ground radials, No Baluns, No Traps, No coils or taps to mess with, no adjustments needed. I have worked many DX and US stations with this antenna! It's perfect to keep you on the air during all kinds of weather. Use it as your primary antenna as I do! Just a good antenna to keep you on all bands at all times.
Great back up for emergencies!! Great for restricted space situations.
This is fully compatable with all radios from the tube type of the 1920's to todays CPU 2014 solid state radios and FLEX-5000 Software Defined Radios as stated from a happy customer. Marine Radios as well, No ground radials required as it has an Internal built in Current path!
Note: This may not out perform a Full Sized 1/4 or 1/2 wave perfectly tuned mono-band vertical tuned at that band with a good ground radial system. This antenna is about convenience and ease of use and will perform very well with good all band broad band matching without a tuner or ground radials. As with all verticals, this one will also work better with a good ground system for added performance. The design of this antenna has an Excellent Signal to noise ratio and greatly reduces man made and terrestrial electrical interference so you can hear the weak signals where you could not before. Antenna is Guaranteed for 1 year from defective materials and workmanship. Please ask any and all questions you may have, I will answer truthfully. Export model is now available!! Frequency-From below 160m continuously through 6m (160m, 80m, 75m, 60m, 40m, 30m, 20, m17m, 15m, 12m, 11m, 10m, 6m).
VSWR------1.0:1 to 2.1:1 worse case. Mast size---1.5 to 2.0 inches. No Radials or counter poise needed, Radials can improve performance if you choose to use them.
Frequency Range--- 15 KHz through 200 Mhz (Receive). Hand made right here in the USA. May 19, 2015 as US Patented. Stainless steel hardware used throughout.
The item "All Band multiband HF Vertical antenna Ham Radio Amateur US Patented" is in sale since Friday, January 01, 2016. This item is in the category "Consumer Electronics\Radio Communication\Antennas\Ham, Amateur Radio Antennas". The seller is "carlh1979" and is located in California, Maryland. This item can be shipped worldwide.
To Fit: Ham radio shack station
Compatible Brand: Comet, diamond, Hy-Gain, Butternut, MFJ, Cushcraft
Brand: Fat Spectrum, LLC
Model: FS200-54M
MPN: FS100-54M
Frequency Band(s): VLF LF MF HF VHF
Directivity: Omni-Directional
Country/Region of Manufacture: United States
Country of Manufacture: United States
UPC: Does not apply

---