End Fed 6 40 meter+ Portable HF Antenna System. QRP- 150+Watt WATCH VIDEO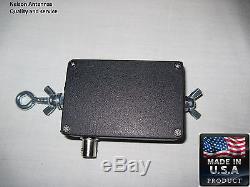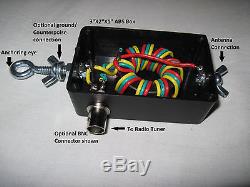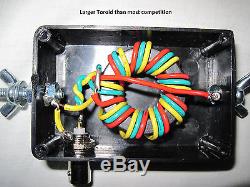 UJM-150 End Fed Antenna Matcher Made by a HAM for Hams Tiny and light weight! This unit is encased in a 1"x 2"x 3 ABS box! And comes with a SO-239 connector. Does your HOA try to deny you the ability to have antennas up? Are you looking for a quick and convenient way to run a portable dipole without needing 2 or 3 supports or several antennas?
The UJM-150 may be just for you. This unit will allow you to run an end fed dipole on almost any band with just a single wire and radio+tuner. My matchbox is made with a larger toroid and solid copper wire allowing more power to run through it.
You can run from QRP to 150Watts easily. This is accomplished with a trifilar wound unun (not balun) transformer at a 9:1 ratio. How this works is really quite simple. Running a standard dipole with 2 elements has about a 72 ohm feed point at the center but end feeding a dipole will result in impedance levels from 1800 to 5000 ohms! That's way too much for a tuner to handle right? Well that's what this matchbox takes care of. Simply put it brings the impedance down to levels that tuners can deal with. HOW TO DEPLOY First off you will need a tuner! The bands you can tune up and work depends on your tuner. I use a LDG with my 897d and I can tune up 160-6meters. Although probably not very efficient on 160 it will tune up for me.
Use at least 16 feet of coax from the box to the tuner! The box uses the shield of your coax so the 16 feet or more is good. You can run your antenna as a vertical/sloper/inverted L/or zig zag even. Myself, I usually use a 60' wire and wrap it around and up my 32' telescopic mast while portable. Or I use a 30' wire and run up 20' or so and make an inverted L.
The fun thing about being a ham is experimenting and finding out what works the best for you in your situation. I have many customers that swear this thing rocks on 20 meters perfectly without a tuner using a 84 foot wire and they can tune up on all other bands. Some bands may benefit from using radials or a small ground rod depending on the antenna wire length. You can add or subtract from your antenna wire to obtain a better match for any band/s you wish. So just run your antenna wire 22-84 feet, run to your tuner and to your radio, tune up and talk! Simply pick the group of bands you want to be able to work and select one of the lengths it says is ok for you from the chart. WHY ARE MINE SO CHEAP IF THE QUALITY IS STILL TOP NOTCH?
You can use whatever wire or cable you want for your element. There is no sense in sending this with a 40'piece of 14-18 gauge wire when you may want to use 84 feet or 22' right. I myself use a small stainless braided cable from a fishing down rigger for my element and I'm very very happy with it. Heres a video to show you just how well they are made.
And if you look closely you can see that my toroid is a little bigger than most of these offered. Please read through my feed backs. I do not sell junk!
I have a very good reputation for quality and service both. The item "End Fed 6 40 meter+ Portable HF Antenna System. QRP- 150+Watt WATCH VIDEO" is in sale since Wednesday, June 25, 2014. This item is in the category "Consumer Electronics\Radio Communication\Antennas\Ham, Amateur Radio Antennas". The seller is "nelson_antennas" and is located in Marcellus, Michigan.
This item can be shipped worldwide.
Model: UJM-150
Frequency Band(s): HF
Country/Region of Manufacture: United States

---