Helium LoRa Directional Panel Antenna WIDE 12dBi Phased Array 900MHz 915 902-928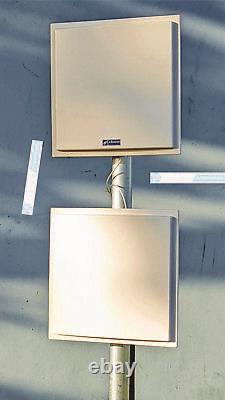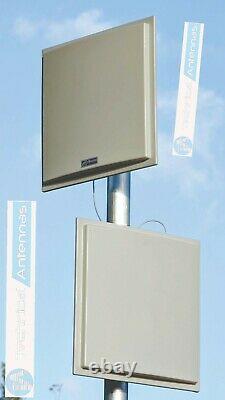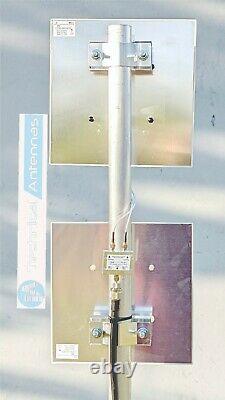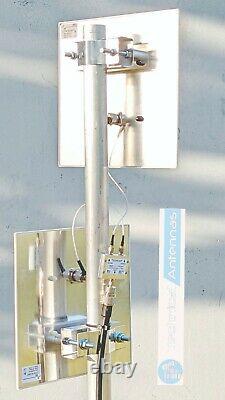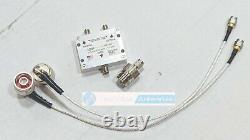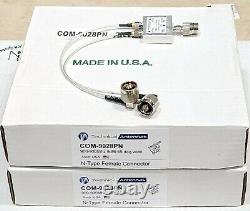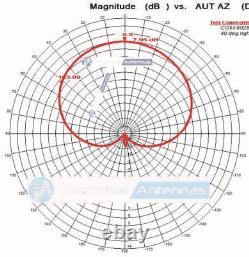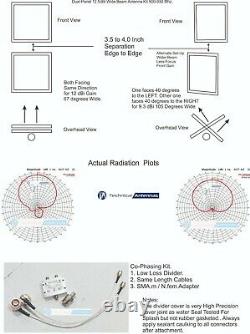 Factory direct, New Production started March 2022. This is a new, lab tested, proven phased array of TWO 8.9 dBi panels working together in phase via a 50 Ohm high precision divider and 2 short low-loss phasing cables. This is a full kit for the price. The power divider (OK call it a splitter if you insist) is listed on. Watch for a listing of the phasing kit alone in case you have some other antennas, or 2 of these already.
TWO Panel Antennas working in PHASE for LoRa, Helium, 900 MHz Band ISM And Data. Service for the popular 902-928MHz band. Peak Gain Of 12.3dBi With a Very Usable. Wide and 30 Degree Elevation Beamwidth.
N-type connectors Includes the POWER DIVIDER, PHASING CABLES AND N/SMA ADAPTER. Designed and fabricated in The USA to exacting standards. The spacing is critical, they are 3.5 to 4 apart.
Facing the same way its 12.4 dBi peak and 65-67 degrees wide. AIM THEM 35-40 degrees left and 35-40 degrees right, away from each other and you get 105 degrees wide beam and reduced gain to 9.5dBi.
This is all true performance not Chinese dBi or fake numbers. And the same 45-degree elevation. Is this any better than a 12dBi omni? Yes because an omni cannot ever get over approx. And at that point the the elevation beamwidth is VERY narrow approx.
Watch out for the dBiCN Chinese dB gain! This is not an OMNI-directional antenna.
This antenna is directional and beams a very strong signal in ONE direction 65 to 105 degrees wide and 30 degrees high (vertically). The antenna works perfectly (100% RF test before packing) and if you don't get the results, you expected do not blame the antenna and return it. Frequency Range: 900-930MHz (880-960 reduced gain).
Forward Gain Peak: 12.5dBi. Forward Gain Average: 12.2dBi. VSWR Avg: 1.4:1. Connector: Type-N Female (input to the divider via SMA adapter). Dimensions: 9.5x9.5x0.8. Weight Installed: 0.54 KG. Support Mast Diam: 0.75 - 1.8. Back Plate Material: Sheet Aluminum. Mount System: Alum, Plated Steel.
Hi Can they be tipped down a bit for a lower vertical beam angle? Also if you set the angle less than the 40 degrees left and right will the horizontal pattern be less with more gain? Thanks for your help I'm very interested in this setup.
The safe bet to tilt the beam down would be to tilt the whole mast or pole forward and angle them both down. Its a question to be resolved with the test chamber if each one gets tilted down and held in same location. I suspect that wont work. Another test is moving the upper one forward some inches.
The 80 degree separation in Azimuth direction stul has them in phase with the benefit being 105-100 degrees wide but reduced to 9 dB. THis was optimised in the test chamber to get to that set up. Yes any where from straight forward to the 40+ and - left and right varies correctly.
So going left and right 20 degrees might go from the designed 12 dBi 67 degree to 10 dBi and 80 degrees. However then you are in gain numbers like a much cheaper omni.
The best ones are just under 10dBi, Over 10 dBi cannot exist. (But they claim whatever they want for sales). But, the omni will have much less elevation, a thin signal because its putting power out 360 degrees. Instead of just 67 or 110 degrees.
The thicker elevation is a good help to canvass more especially if the antenna is up high above the terrain. Please contact your administrator with the error code: 0.1f7c1ab8.1649374852. This item is in the category "Consumer Electronics\Radio Communication\Antennas\Ham, Amateur Radio Antennas".
The seller is "platech1" and is located in this country: US. This item can be shipped worldwide.
Model: COM-9028PN2Pkit
Country/Region of Manufacture: United States
Compatible Brand: Sensecap, Bobcat, Nebra
Band: UHF
Directivity: Mono-Directional
Type: Antenna
Features: Gain Booster
Compatible Product: Base Station Radio
MPN: COM-9028PN, COM-9028PN2KIT
Frequency Band(s): UHF
Number of Inputs: 1
Brand: Antenna World

---