LMR400 Ham CB Antenna Coax Cable 50 ft PL-259 Connector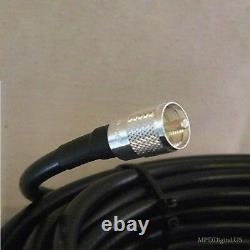 Wholesale and Retail sales of USA Made Coaxial Cable Assemblies for all RF requirements. "We don't just Assemble Coax Cables in the USA That's where our Coax is Manufactured".
Just where was your cable made? LMR400 Ham CB Antenna Coax Cable 50 ft PL-259 Connector. Producing Times Microwave and other US Made and Assembled RF coaxial antenna cables. MPD Digital is Veteran Owned, Woman Owned, Small Business operating with warehousing and production facilities in Southern Georgia about 150 miles South of Atlanta. We are incorporated as Kimberly Distribution LLC.
Kim Nelson owns, and operates Kimberly Distribution LLC / MPD Digital and manages all production and daily operations. Kim and MPD Digital Never sell cheap Chinese Cable and ships hundreds of custom made cable assemblies to Hams and commercial radio operators each day. MPD Digital Coaxial Cable Manufacturing Process. Our new computerized machinery is programmed with over 900 specific strips for termination of each connector and cable type we use.
Making hundreds of cables a day is impossible without hi quality crimping presses. MPD Digital uses multiple pneumatic crimping machines from DMC, Kings and Pasternack.
Each machine uses calibrated dies correct for a specific cable type. While the majority of our cable assemblies use crimped connectors, many connectors use soldered pins and for LMR-400 and other cables MPD offers PL-259 connectors that are milled Brass with heavy Silver plate and Teflon Dielectrics.
In order to properly use high temp lead free Silver solder MPD employs advanced Metcal soldering stations. Ham/CB Standard Connectors and Wireless/Wifi Internet Connectors are Different. Coaxial connectors are designed to provide secure signals from your equipment.
In this tab we show connectors designed for Ham and CB Radio as well as Wireless Internet an make sure you know the difference. The most common connectors used in Ham and CB Radio are the Male and Female UHF Connectors.
Straight SMA and TNC connectors shown here are Not used for Wireless Internet antennas or routers in the USA. Mini UHF, BNC, and FME Connectors are used in Amateur Radio, Cellular, and Data Connections.
N Connectors are used for all Antenna connections for both Amateur Radios and Wireless Internet. Straight or Reverse Polarity - Big Difference! At one time all connectors were straight.
Boys were boys and Girls were girls then along came the Government.. In order to regulate WiFi and try to create connectors specialized for it's use we have the FCC and the wonderful concept of RP (Reverse Polarity). Now we have Females with Male Pins and Males with Female innards. See the picture here of SMAs, but TNCs, BNCs, Ns and others can all be Straight or RP depending on their use. Take a look at the photos and if you don't know which you need Please Ask.
The vast majority of Wireless antennas and Routers use RP-SMA Connectors. Genuine Times Microwave LMR coax for Wireless and WiFi Antenna Connections. These Antenna cables are Ultra Low Loss to provide and maintain the strongest signal from your equipment. A good antenna does no good if cheap coax loses your signal prior to reaching it.
There is no such thing as LMR-xxx Equivalent Coax. Times Microwave makes it's cable under United States Patent Numbers 6,831,231, 6,780,360, 6,610,931, 6,292,072, 7,942,697. What this means is that every company claiming to make "Equivalent" cable CAN'T. They must use different Jackets, Different Dielectrics, and Different Conductors. Why would anyone market their cable as Equivalent?
Other Good US Companies that make Ultra Low Loss cables, CommScope, Andrew, Coleman, General, etc. NEVER market their coaxial cable as Times" LMR-400 Equivalent", legitimate manufacturers just don't do that.
There is a Huge Difference between Genuine Times Micro LMR and cheap Chinese Imitations for one thing Times weighs 10- 20% more, hint, Tin weighs less than Copper... With a 20mm minimum 90 Degree bend radius, LMR cable can be easily routed into and through tight spaces without kinking. The Patented LMR bonded metal-tape outer conductor provides superior flexibility and ease of bending compared to corrugated copper or smooth wall copper hard-line cables. "LMR Equivalent" coax loses signal where ever it is bent.
LMR has lower loss than other RG type cables. This is achieved through the use of a high velocity dielectric and a bonded aluminum tape outer conductor. The proprietary gas-injected closed cell foam dielectric prevents water migration through the cable and provides excellent crush resistance. "LMR Equivalent" coax is not crush resistant.
The UV protected black polyethylene jacket makes the cable rugged and resistant to the full range of outdoor environments. Times Microwave Coaxial cable is rated for 20 years outdoor exposure standard "LMR Equivalent" coax is not.
The bonded aluminum tape outer conductor is overlapped with tinned Braided Copper Shielding to provide 100% coverage, resulting in >90 dB RF shielding (>180 dB crosstalk) and excellent interference immunity (ingress and egress). No "LMR Equivalent" coax is UL and FCC rated for 100% shielding. The intimately bonded structure and foam dielectric of LMR cables provide excellent phase stability over temperature and with bending. The high velocity dielectric results in superior phase stability as compared with solid and air-spaced dielectric cables. This is the reason NASA does not use "LMR Equivalent" coax.
Times Microwave LMR cable has been certified by The US Military, NADIC, NASA, and the FCC with all testing independently validated. But LMR cable Costs More! A word on Our LMR Coaxial Cable Pricing.
Pricing by the foot - We price our cable assemblies by the Ft/Meter including the cost of installed connectors. While the price of the coax varies by length, the cost of connectors is fixed. This means that the sales price of shorter cables varies very little. Our cables are expected to have a life span of up to 20 years in amateur radio and wireless use.
We have a direct factory rep from Times Microwave and are a recognized Times dealer. With copper prices up over 300% in the last years there is more pressure than ever on producers and sellers profit margins.
Although we have we do not know if this is due to metallic or plastic composition it reinforces our commitment to the genuine article. US Made Coaxial Cable Types we offer.
Times Microwave LMR-400 Ultra Flex. Times Microwave LMR-400-75 (75 ohm).
Based on our years and experience in the business, we believe this is cost-efficient. And if you have questions or concerns, feel free to send us a message. Our partnership delivers the packages to John F. There will be a two kilogram weight limit. Our company does not mark merchandise values below value or mark items as "gifts" U. And other International government regulations prohibit such act. And we dont plan on stopping either! Our company accepts a Product Return for ANY Reason. 3 If an item fails to operate within the company policy of 60 day return period. We are not alone here; neither does Sears, WalMart, Home Depot etc. An instance would be ordering wrong cable without seeking assistance from us. Our cables are rated with a 20-year-lifespan and are expected to last. If your cable fails, well be glad to make things right. If needed we will help you file a claim and provide a replacement. That can be paid online. The item "LMR400 Ham CB Antenna Coax Cable 50 ft PL-259 Connector" is in sale since Friday, November 6, 2015.
This item is in the category "Consumer Electronics\Radio Communication\Antennas\CB Radio Antennas". The seller is "sagemaiden" and is located in Albany, Georgia. This item can be shipped worldwide.
Country/Region of Manufacture: United States
MPN: LMR400
Brand: Times Microwave
Type: Coax
Model: LMR-400

---