MILITARY SEMI-STATIONARY MAST 11m Fi 76mm /#0 W2D 5456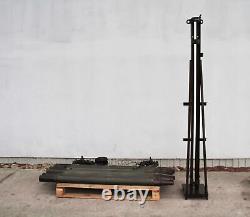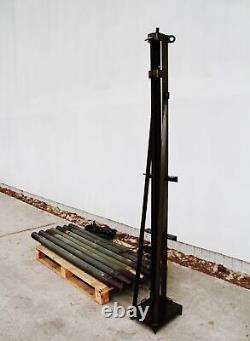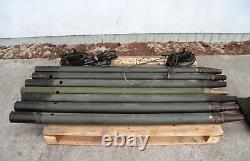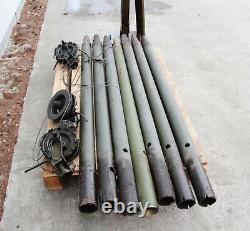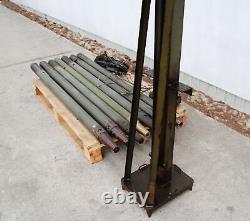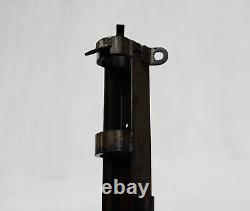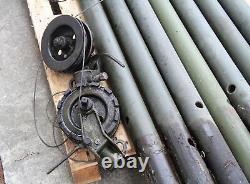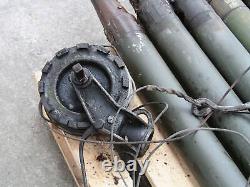 We offer you a military foldable mast designed for the installation of long-term antenna installations. The mast consists of 7 steel pipes, each 160 cm long, and the mast base - a mast lift.
Unlike aluminum telescopic masts, the offered mast was intended for long-term erection of large antennas, it is very durable and does not degrade under regular loads. Unlike most telescopic masts, the offered mast can be rotated to adjust the antenna to the correspondent. Of course, we rotate the mast at the bottom, which causes the entire mast tube to rotate simultaneously.
Various types of antennas were mounted on the mast, such as a parabolic antenna with a diameter of 1.5 m or a multi-element Yagi antenna with a length of 4 m and a span of 2 m. Once erected, the mast requires two floors of guy wires, that is, an upper set of guy wires from the mast head itself and guy wires from the top of the mast lift.
The mast tube, are galvanized and protected against corrosion. Due to the fact that the mast is made of steel, it can be easily modified by welding or tightening various elements of equipment. Mast elbows - main mast tube are new, unused in original grease. The mast lift and guy winches are used in very good condition.
However, the guy line on the reels would need to be replaced. You should also make your own top lashing attachment - the mast head. All you need is a clamp and three shackles. Masts of this type have easily stood for 20 years or more without any damage.
It is enough to paint the mast once every few years. The connections between the mast tubes also do not seize and after many years of standing there are no problems with dismantling the mast, unlike typical telescopic masts. We do not show the full stock quantity in our offers. If you have any other questions, please write to us. If you are not satisfied with the product - write to us.
PLEASE VISIT OUR OTHER AUCTIONS.

---