TM4 SuperPod Large Portable Tripod for MP1 SuperWhip HAM Radio Amateur CB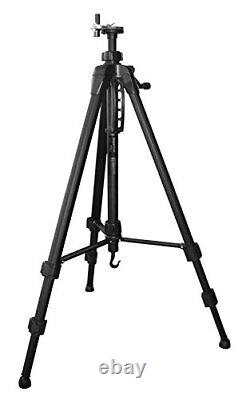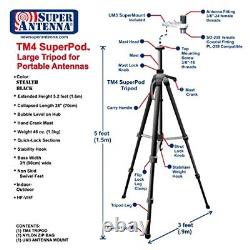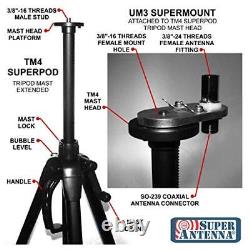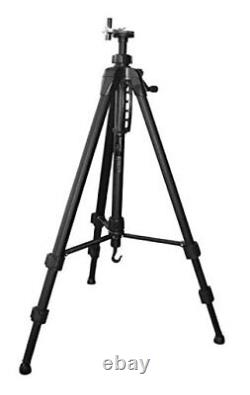 TM4 SuperPod Large Portable Tripod for MP1 SuperWhip HAM Radio Amateur CB. THIS IS: The model TM4 SuperPod Large Portable Tripod, for portable antennas, made by. Companion tripod to the #1 HF Portable Vertical Antenna worldwide, the MP1 series.
Designed as part of a /portable /backpack /base /travel antenna system for Ham Radio. It is for transmitting and receiving on HF and VHF radio frequencies. CONTENTS: TM4 SuperPod + UM3 SuperMount + TB4 Black Nylon Tripod Carry Bag. Designed for field deployment of MP1 and other types of antennas such as mobile ham or CB mobile antennas. Operators who demand top performance choose the SuperPod because it is reliable, compact, and versatile. Instantly expand it up to full size for EmComm severe weather operations, Backpacking, DXpeditions, or any type of base installation. SIZE: Extends to 5 feet high, collapses and packs into a 24 inch bag for travel.
The tripod legs footprint is 3 feet wide. When extended for operation, it puts the top of the MP1 SuperAntenna at 12 feet high. WEIGHT: Tripod with mount 2.5 pound (1.1kg). Carry case 0.25 pound (0.1kg). COMPATIBILITY: Fully compatible with all equipment, Ham radio mobile antennas, and CB mobile antennas.
FITTINGS: Antenna fitting is radio industry standard 3/8-24 female threads, compatible with standard ham and CB mobile antennas. Works with Ham, Marine, Government, NGO, CAP, MARS, EmComm, Shortwave, CB, MURS, FRS, GMRS, PMR, Weather, FM, Scanner, and everything in between. RECOMMENDED ACCESSORIES: model MP1C SuperStick; MP1DXTR80; MP1DXR; MP1DX; model SW1 SuperWhip; model MC80 SuperCoil 80m/75m optional coil; Radial Sets models MR2Y (with MC2 SuperPlexer), MR642, MR8060, MR8075, MR4010, MR8075, MR6060, MR4020, MR2010, MR1710.
THIS IS ONLY A TRIPOD FOR ANTENNAS. THIS IS NOT A CAMERA TRIPOD. THIS IS NOT A PHOTO TRIPOD.

---