Wi-Fi Remote Antenna Switch & Power / SWR Meter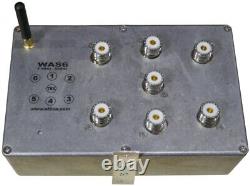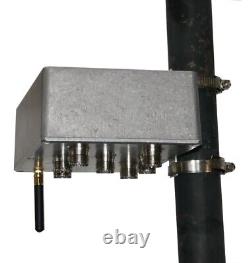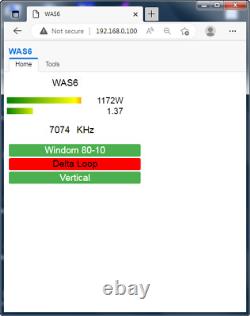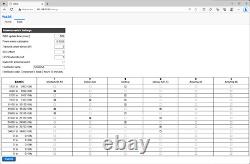 Six to One coax switch. Can be mounted on a wall or pipe (25 to 50mm diameter).
Tandem Match Power / SWR sensor inside, rated up to 2000W. Switching request sent while transmitting will be postponed.
1.8MHz to 52MHz, SWR. 2.4GHz WiFi 802.11n network interface. Power requirement: 10-16VDC / 0.3A remotely through coax cable or localy.
Listens to RadioInfo UDP packets sent by N1MM+, DXLabs and other logging software to extract radio operating frequency and select antenna. Can be used with any radio that can be interfaced to those loggers. Connects directly to Flex 6x00 series radio and follows operating frequency. Can be used remotely without PC.
WEB server that can display operating frequency, choose available antenna on that band, displays transmitting power and SWR on PC/ MAC or tablet. WEB page is fully customizable. Provides a fast websocket interface for Node-RED integration. Dimensions (enclosure) 7.25 x 4.75 x 2.25in (187 x 120 x 55mm). For more information, photos and User manual visit WAS6 pro ject at.

---